Extension tract provides more rooms for lessons, kitchen and refectory
Construction of ground floor of the extension building is completed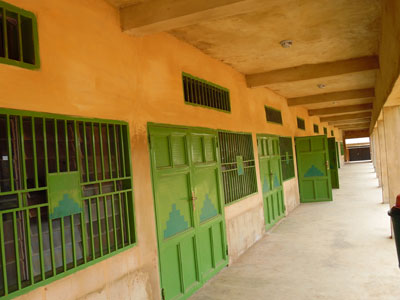 The first building B01 with 4 rooms has been in use since 2008. All the rooms, with the exception of the room for computer, instruction, are further subdivided for the following needs: an office for the Project Coordinator and the secondary school Principal, for the internet café, a classroom, a typewriting practice room, a dispensary, a dormitory for the physically challenged pupils living at the Center, toilets and showers.
With the current number of activities in the Center, the capacity of this building has already been exceeded. A kitchen and a refectory / cafeteria, storage rooms and more classrooms are direly needed. In 2012 ground was broken for an extension tract B02. The ground floor of B02 was completed in spring 2015. Long before it was finished, however, the entire secondary school instruction and activities started taking place there. Already the room capacity has been exhausted. In the coming school year we anticipate a stifling congestion, since both buildings are already full to bursting. We'd be very grateful and glad if the upper floor of the extension tract B02 could be completed in the near future.
The ground floor provides the following rooms:
Storage room
Workroom
3 classrooms
Refectory/Cafeteria
WCs
Cleaning room
A kitchen with pantry and a food storage, changing room with toilet and shower for the kitchen personnel
The new building is not only making a secondary school possible. It enables the Center to pursue its goal of Education and Training for the physically challenged young people as well as those needing no special support and to effectively further the Inclusion of the physically challenged young people. The school was accredited as a secondary school on 5 January 2016 and officially enlisted as an examination center for national and West African school certificate examinations in Enugu State.